Anfang des Hauptinhaltes,
Acker Stadt Palast
The Acker Stadt Palast in Berlin's Mitte district is a place where established artists and newcomers meet to experiment and reflect upon contemporary discourses. The focus of the venue, established in 2012, is on the connection between contemporary dance and new music. The Acker Stadt Palast offers the independent sector a novel interface between these art forms while also being interested in diverse aesthetic forms of dance and theatre.
The Acker Stadt Palast is the venue of the registered association Freie Bühne Mitte (Independent Theatre Mitte). The members are theatre makers, musicians, actors, theatre technicians and humanities' academics who have been responsible for the programme and running of the Acker Stadt Palast since summer 2012. The theatre's survival is ensured by an indefinite rental agreement with the residential and cultural project Schokoladen (Chocolate) - a unique situation for a cultural project in Berlin's Mitte.
In 1990, artists squatted the former chocolate factory on Ackerstraße, where they opened a bar and theatre. They organised concerts and readings and quickly gained a large, loyal audience. Between 1993 and 2013 there was a bitter fight with the building's new owner which finally resolved in 2012 with the continuation of the project thanks to the support of the Berlin Senate and an exchange of property.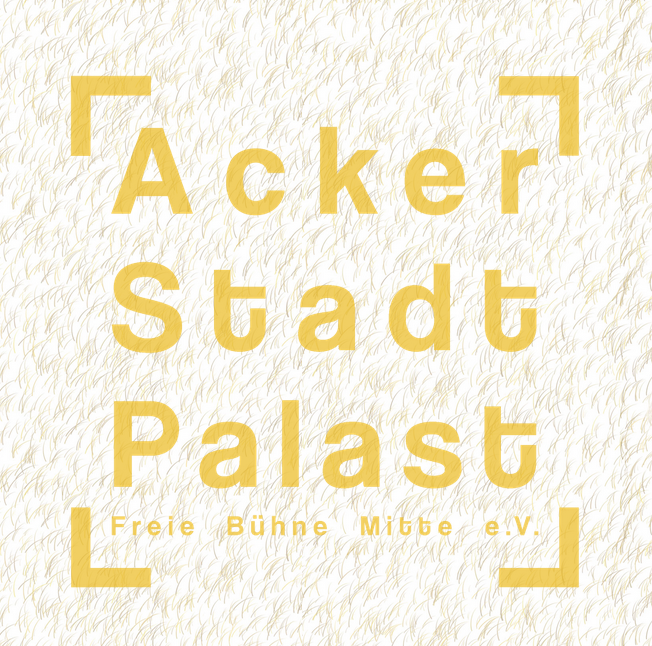 Venue
Ackerstraße 169
10115 Berlin

Web:
ackerstadtpalast.de/
Zur Seite wechseln facebook Seite, Öffnet in einem neuen Browser Tab, Zur Seite wechseln vimeo Seite, Öffnet in einem neuen Browser Tab,
Box Office
Web:
billetto.eu/users/acker-stadt-palast
Accessibility
From the Schedule
Concert
13.8.2022, 19:00
UpToThree 2022 – elsewhere
Premiere Performance
26.8.2022, 20:00
Bubble Sinn
Dance Performance
8.9.2022, 20:00
VIVARIUM
Premiere Performance Music Theater Concert
29.9.2022, 20:00
BIOME
Dance Performance
7.10.2022, 20:00
VI.BRATIONS & Guest
Dance Performance
12.10.2022, 20:00
Decolonization Praxis and the Art of Talking Disability
Premiere Dance Performance
20.10.2022, 20:00
DARK RED
To the schedule